2 Steps To Instantly Drive Targeted Traffic to Your Website Using Facebook Advertising
It is now easier than ever to get in front of highly targeted customers. The best part is how under priced the attention is. Right now if you're not leveraging the power of Facebook's Advertising platform, you would have missed the boat very soon. With over 2 billion active users, it's obvious where your customers attention is. Let's go through how you can get in front of them.
# 1 Have an objective
What do you want to achieve by running a campaign. Whether it's to find leads, increase sales, grow a following or simply build brand awareness.
You must know 'why' you're doing it.
# 2 Target Your Ideal Customer
Facebook's targeting is extremely advanced. The specificity in targeting options is unreal. You can narrow down your targeting to even the most minor details such as; have they recently bought toothpaste. This is where you really need to know who your customer is. Where they spend their time, what they like etc
Bonus: How to Setup a Highly Targeted Audience
Step #1
Go to Facebook Ads manager
If you don't have Facebook business manager setup, here's a link which shows you the steps.
After you've set up business manager, you'll have to create an Ad account.
Here's how to setup an Ad account

Step #2
Select your marketing objective (this is where the why comes in). If you'd simply like to drive traffic to your website select the option labeled "Traffic".
If you run an ecommerce store and you'd like to make sales on your website, simply click "conversions". This will allow you to track every action the potential customer takes such as "add to basket" or "checkout" and more importantly "order" or "purchase".
Step #3
Name your campaign. For this example I'll be playing the role of a sushi restaurant.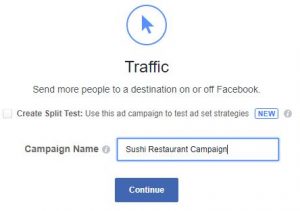 Step #4
Create ad set name and pick where you want to send the traffic. The ad set name can have the same name as your campaign or anything else you'd like. We want to drive traffic to our website so we're going to select "Website or messanger"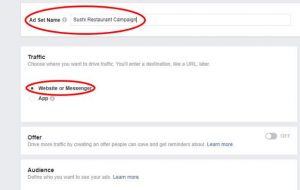 Step #5 Creating the Audience.
Select the location. For this example the location will be Leicester square located in London.
You'll also want to select the radius around the location, in this case I've selected a 5 mile radius.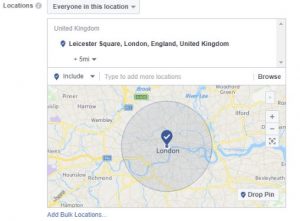 Step #6
Select Age and Gender. This is different for every business and it's why you really need to know who your ideal customer is.

Step #7
Targeting. Here's where you select your customer's interests, their purchase behaviours and many more. For this example, I've selected interests around sushi and also targeted some employers in the area to attract their employees to the restaurant.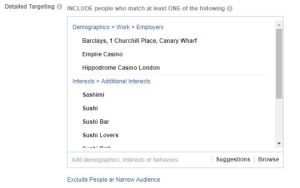 Step #8
Edit placements. This is where you choose where you want your ads to appear. Some of the options include mobile or desktop users, news feed, right column and more.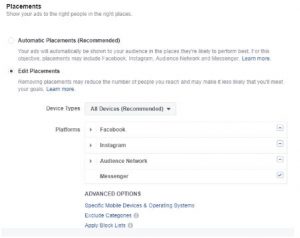 Step #9
Select your ad budget. I like to start with a daily budget of $5 just so I can test the Ad. But feel free to increase the daily amount depending on your budget.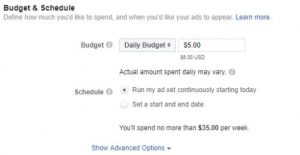 That concludes how to create a targeted audience on Facebook. If you'd like to go more advanced, the process does have a few more moving pieces to it such as the ad copy, landing pages and email marketing. I hope this has given you an understanding of how you can instantly drive targeted traffic to your website using Facebook Advertising.
Volkan – Social Media Advertising